About the Church
St James Church

Smisby


Sir Walter Scott decided to write "Ivanhoe" after a visit to this church when he went to the top of the tower and saw the tournament field in the valley between Smisby and Ashby castle. (more about the Ivanhoe connection in the history pages of www.smisby.org.uk )

St James' Smisby (Originally Smithsby - the village of the Smiths)
The first building was a Chapel of ease, built by the Repton Monks in 1068. This now forms the South Aisle. Joanne Comyn, who married William Shepy in 1300 and became the owner of Smisby and its Manor when he died, added the nave and chancel. She died in 1350 and her memorial is next to the font. The tower was added in the late 15 century. It contains two bells which are inscribed "God Save The King 1617" (Charles I) and "God Save King Charles II 1662"


The font is of 14th century octagonal design and was originally under the first arch, but was moved to its present position, on a new base to match its design, when the church was restored in the 1890's. At the same time the floor was raised so that the stone heating channels could be put under the floor. This is why the bases of the pillars are almost covered.

In the 1960's the old Organ was removed and a new one built under the tower. A side altar was placed where the first altar had been, and the broken piscina was restored. The side altar was dedicated to Dr Mark Baker, the village's doctor, who gave his life trying to save two men trapped down a well.

The memorial in the South Aisle is that of William Kendall, great, great grandson of Joanne Comyn, and his wife Ann. On the outside buttress of the South Aisle is Hastings ragged sleeve, probably put there after William's two brothers, Richard and Thomas, were killed at Bosworth in 1485.
The third memorial is by the side of the main altar and is that of Henry Kendall - great grandson of William, and his wife Elizabeth. Their children are below them. The eldest son, Henry, sold the Manor to the Crewes of Calke Abbey in 1660.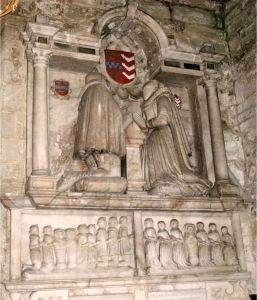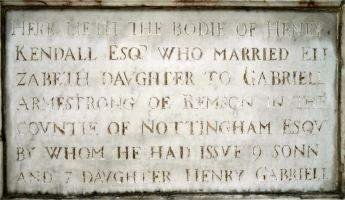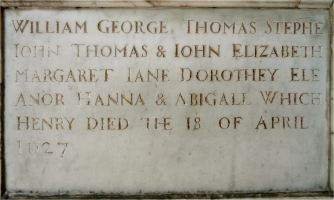 The linen-fold panelling behind the main altar, came originally from Ashby Castle and was brought to Smisby in the 1850's.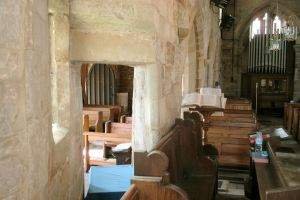 The Squint - or to give it its correct name, the Hagioscope, was widened in the 1890's to give a view of the altar from the South Aisle.
The carved wooden war memorial on the wall of the South Aisle was the work of a Smisby craftsman, William Bailey.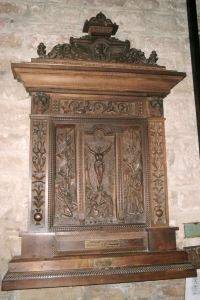 The windows are of varying types and ages. The three light East window of the Chancel is an example of decorated work of around 1350, but the centre was filled with masonry before 1850. The East window behind the side altar is an early English Lancet window. The other windows are of a much later date.


E.M.B. 1993