Smisby WI Past Events
---
SMISBY WI AGM & Resolution Meeting

Held on July 1st, 2021, at Smisby Village Hall at 7.15. p.m.
Julie our President opened the meeting by welcoming nineteen members to the AGM and introducing Kirsty and Ann from the Bank House Community Hub based in Swadlincote. Bank House in run in partnership with South Derbyshire Mental Health Association and support a wide range of people who come for help with filling in Benefit forms, support then with appeals and tribunals, housing issues, liaising with energy suppliers, find the service users jobs, College placements, and the support of just being able to talk to someone.
Kirsty and Ann where so enthusiastic about their rolls within the organisation that we all decided to ask them back again and hoped we would be able to offer Bank House more help in the future.
After their talk Julie presented Kirsty and Ann with a cheque for £418 which was raised at our coffee morning on Monday the 31st of May.
We then proceeded with our AGM all the committee wanted to continue, Julie as our President, Suzanne Secretary, and Muriel Treasurer.
We now come to the resolution which had been put forward by Kathy Heathcote a WI member from Hampshire who lost her daughter-in-law to ovarian cancer. After members watched a superb video outlining the for and against supporting the resolution, we at Smisby voted to support the resolution to make women aware of the signs and early detection of ovarian cancer.
The meeting finished with coffee and biscuits, not our usual cheese and wine.
---
June 2021 Report
Like many WIs, Smisby has embraced zoom to enable us to keep in touch with members. Every month we had two evening guest speakers and twice a month a coffee/craft morning. Invitations were sent out to local WI's to log onto the evening talks, and they were well supported.
At one of the coffee mornings, it was suggested we crochet, knit, paint sunflowers to attach to trees in the local woods surrounding Smisby. After a long discussion Julie our President suggested we put them on the railings around the village hall, make a feature of it and have a coffee morning to raise money for a charity. Several dates were made but had to be pushed back for covid reasons, members were busy making Sunflowers of all descriptions to decorate the railings with over one hundred and fifty made. Three of our members are Trustees of the village Hall and as we have complied with all covid safe regulations we could allow people into the hall and treat it as if they were entering a restaurant, contact numbers taken and face masks had to be worn until they sat down where they were served by members.
May 31st Spring Bank holiday Monday, a glorious day, cakes were made coffee and tea at the ready, book stall, plants, and bric-a-brac sold outside everyone felt really pleased to be part of the community and doing something "normal". £418 was raised for a local mental health charity which will be presented at our AGM in the village hall. It was time to take down the display but not before taking a picture of several of our ladies with some of the sunflowers made for the occasion. Click on image below to enlarge.
---
Special Report May 2021

At last things seem to be progressing well with the Covid vaccine roll out with many of our members having had their second jab.

The Trustees at the village hall have worked extremely hard getting the hall deep cleaned and putting in the signage and the covid cleaning schedules to comply with government legislation. That means that as a WI we can meet in the village hall in groups of six with no more than thirty people at any one time.

At our first face to face committee meeting many decisions were made and dates planned.
The walking group has gone from strength to strength, and it was decided that we would now have two walks a month, the second Thursday of the month will be a 4-5 mile walk still calling ourselves the Striders, and on the 4th Tuesday of the month it will be for members who can only walk 2-3 miles and they will be the strollers. All dates and walks plus not forgetting where we will be having lunch will be sent to members via email and advertised on the notice board.
Some of the Tuesday dates may vary as we have booked some outside activities, Stone carving and Wood Turning plus we are looking at a day at making a willow basket.

Our first meeting in the village hall will take place on Thursday 20th of May the speaker Ian Reston giving a talk on The Pennine Way, all guidelines will be followed, if the restrictions are lifted in June we will have a "normal meeting" with a speaker on June 24th.

We are coming up to the Spring Bank holiday, Monday May 31st and our crafters have been remarkably busy making Sunflowers out of various mediums to decorate the village hall railings. We will also be serving coffee/tea and homemade cake in the hall, outside there will be a bookstall, brick-a-brack table, plus a plant stall and raffle, with all money going to a local Mental Health Charity. The weather looks promising, so we hope for a good turnout of local people.
Our 2021 AGM and Resolutions meeting will be on Thursday 1st of July in the village hall lets hope for a good attendance.
The craft mornings will start again on Thursday 3rd of June with Jane Reynolds and "paper crafts". Julie and Jane have put together an exciting number of different crafts for us try in the coming year so look out for the dates and the crafts on offer.
The committee would like to take the opportunity to thank all the members who have once again paid their membership and shown their commitment to Smisby WI, four members have left for various reasons, but we have filled the places with four new members who had been on the waiting list.
---
Special Report January 2021
January 2021 and another lockdown has been brought in that means we are unable to have our planned meetings for at least four months. We have therefore decided that we will have two coffee morning meetings on a Thursday and a zoom meeting in the evening with a speaker.
Our coffee mornings before Christmas went down very well, we were all a bit hesitant at first in getting on to zoom but we seem to be old hands at it know.
It was decided to try to do some crafts via zoom and having never done anything like this before it was all a bit strange, but we got there in the end and achieved some exceptionally good results.
In October Suzanne showed us how to make paper poppies which most of the members who had the packs (which we had got ready as we thought we would be in the village Hall for a craft morning) completed and sent in photographs of their achievements.
November, Dorothy kindly showed us how to make paper rose, everyone making an incredibly good attempt at them and of course many photographs were sent in to show how well they had done. December was our Presidents turn, and Julie showed us how to make paper book Angels and a Christmas Trees. It is something new to demonstrate via zoom, but we got there in the end.
No Christmas parties last year or a meal out at the Golf Club how we have missed them and the friendship that goes with meeting up with fellow members. However, members had a Christmas zoom meeting.
As we have said before, meetings will be via zoom, chatter and natter every other Thursday morning at 10.30.a.m. There will be a speaker on a Thursday night 7.p.m. for a talk amongst ourselves and the speaker will begin 7.30.p.m.
January 14th Chris Baker Historical Fiction " The girl who sewed parachutes".
January 21st Carol Burnett "Deadly Weeds or beneficial beauty."
February 4th "Hearing dogs for the Deaf" TBC
February 18th Wendy Freer "A step on the Ladder"
March 4th Barbara Lawson-Reay "Founders of the WI"
March 18th Rachel Lundy "Cycling across America with eight Strangers"
We have not planned anything for April, just hoping we have all had our injections and are out of lockdown.
---

SEE ANNUAL REPORT 2020 CLICK HERE
SEE SPECIAL REPORT, SEPTEMBER 2020, BELOW
---
Smisby WI meetings are usually held on the third Thursday of the month, 7.00 pm for 7.15 pm prompt start. The 2020 programme is now available on the programme page and has details of some new events.reports about past activities can be found on the Past events page.
All meetings normally in Smisby Village Hall, Main Street LE65 2TY at 7pm for a 7.15pm start. In addition, monthly craft sessions and walks are organised on the first and second Thursday of each month respectively. There is also weekly canasta/card games on a Wednesday afternoon and a keep fit class on Tuesday afternoons.
WI Annual Membership is £43. Refreshments are £1 per meeting.
Guests (carers exempt) maximum of 3 meetings per year
A waiting list is now in operation for new members who live outside of Smisby parish.
Secretary; Mrs Suzanne Jones 01530 415346
We are part of the Derbyshire Federation
DFWI Headquarters
"Derbyshire House", Sherwin Street,
Derby, DE22 1GP
Telephone 01332 342596
---
Special Report September 2020

The last paragraph of the annual report said we are looking forward to resuming our meetings in the village hall in September, although at a very reduced capacity due to government guidelines.
On the 6th of September we had a committee meeting to arrange meetings for the rest of the year, a day later it was all change, we would not be able to use the village hall once again due to restrictions.
We had already arranged at BBQ on the 10th September which could go ahead as it was outside. We were due to have the AGM on the 17th September, but it was hastily rearranged to the night of the BBQ as Jean our President wished to retire and Julie agreed to take on the position of President.
The BBQ at the Trough Café at Grangewood, was attended by twenty-two members and several husbands. The AGM went ahead as all information was sent out to all members via email, Jean was thanked for her time as President and Julie presented her with an English Lavender plant for her garden.
We have, as reported in the Annual Report, kept up with the walks twice a week Tuesday's and Thursday. They have been very well attended as you can see from the many photographs that have been taken.
Last May, eight of us were due to go on a stone carving workshop we eventually managed to attend on the 9th of September, and you can see from the finished carving we are quite a talented bunch. Nine members and two husbands thoroughly enjoyed Croquet at Moira it was another outdoor pursuit and we concluded with lunch at the YHA Moira. The next venture will be "football golf" at Coalville, it sounds fun and once again outside for all to enjoy. The next workshop will be wood turning in November at Greenwood Days Staunton Harold. Peter Wood the tutor will be taking two classes and we will hopefully be coming away with a three-legged stool. Look out for the photographs.
Zoom will be our next adventure, as some of our members already use it for Pilates or Keep Fit. I am sure we will have an audience and try to keep our members interested with the many zoom speakers we have managed to obtain.
Will we be able to meet as a group very soon? we doubt it, it looks like our Christmas meal and party has been canceled, so we must make the most of
the technology that is now part of our daily life, meet for walks and hopefully finish with lunch at a local restaurant.
---
__________________________________________________
Visit to Sharpe's Pottery Museum and the Magic Attic: 27 Feb 2020
Twenty-three members and two husbands had a very enjoyable afternoon at the Museum in Swadlincote, South Derbyshire.
The museum contains items of pottery that had been made in the local area over thee past 150 years when Swadlincote was at the heart of the pipe making industry. Not only was it famous for making pipes, and toilets but many local firms like T.G.Green made beautiful decorative household items such as vases and table wear which were on display in the museum.
The Magic Attic was also open for us to look around the archives that were stored there dating back to the early 19th century. The guides were very knowledgeable and helpful, and it was amazing the amount of information that had been gatherers about the local area.
An hour really was not long enough in the museum, but the afternoon tea booked for 3.p.m was ready to be served. Members loved the exhibition by Ashby Camera Club, which was being held in the cafe. Everyone agreed the sandwiches and cakes were excellent, Roberto the owner and his staff could not be more accommodating, a very good afternoon well supported by the members and several said they would be returning for a longer visit.


Smisby WI visit to Elford Community Gardens June 2013
Harper Crewe Group Carol Service 6 December 2018 St James, Smisby
The carol service was a great success last night with over sixty people attending. A big thank you to our readers of the poems, and to the members who were persuaded to make Mince Pies. There were many comments saying how lovely everything was, which makes it all worth while. Pat, thank you for once again making the mulled wine and ensuring the Mince Pies were warm when served.
The collection raised a total of £122.20p, a superb amount, raised for the Betel UK charity which helps restore lives for local people or families with drug/alcohol or homeless related problems. Also thanks to Sue and Ivor Betteridge who put the service together and to Georgia who sang with Sally on the Clarinet, Ivor was also the organist for the night.
WI Christmas Lunch: 19th December 2019
Our Christmas Lunch at Willesley Golf Club was supported by forty-five members who enjoyed a superb lunch. The room was beautifully decorated with festive trimmings which put us in party mood.
After lunch a quiz organized by a committee member was given out, and after much deliberating one table was the eventual winner and the box of chocolates was soon eaten.
A lovely way to end 2019 and we look forward to 2020 and to our 85th Birthday year with many more celebrations to follow.
Thanks, to Jean and Barbara for organising the event
WI Party: 13th December 2019
The party was re-scheduled to the Friday because of the election the day before. Entertainment was provided by the Melbourne Bell Ringers.
Harewood House Visit : 30 November 2019
Where to go for our Christmas outing this year, Chatsworth was our destination last year and we really did not want to go again, Harewood House in West Yorkshire near Leeds was suggested and to go on a Saturday to give those who work the opportunity to attend.
What a good suggestion that turned out to be, the house sits in the heart of Yorkshire and was built in the 18th century by Edwin Lascelles 1st Baron of Harewood, who was a plantation and slave owner in the West Indies. The house has an Art collection to rival the finest in Britain, and rare birds and exquisite gardens.
It is only the second time that the house has opened for Christmas and had been dressed by creative director Simon Costin. The house came alive with pictures talking, table ornaments singing, plates talking to one another, statues having a gossip and a ceiling that lit up, it was fantastic and this was all set against a backdrop of superbly decorated Christmas trees, a lovey log fire and sofas and chairs to sit on.
Everyone agreed it was a super day out even though it took two hours to get there, we had no hold ups on the motorway going or coming back and the Roberts new coach was a very smooth ride.
Buxton Visit 23rd to 24th Sept
The overnight trip to Buxton, staying at the Old Hall Hotel, was a great success. The rooms and hotel meals were excellent. The weather allowed the walk from Hollinsclough to Chrome Hill
as planned. It was interesting that October's Derbyshire Life had an article about this area, which provided some additional information and history. The walk was followed by lunch at the High Peak Bookstore Café before travelling the few miles into Buxton to our comfortable hotel. Depite the weather on the foll0wing day we managed some Buxton sight seeing and some went to visit the nearby natiional trust property , Lyme Hall. Click on pictures to enlarge.
Children's Friday craft mornings
Suzanne organised two Craft mornings 5 to 12 year old children and their carers, on 2 August and 23 August. Here is her report and some photos.
In June, Barbara and I attended the National Federation of Woman's Institute AGM in Bournemouth. On one of the stalls there were leaflets advertising the Craft Council of England, they were promoting various crafts like knitting, crochet and sewing to be taught to children, as these are very rarely taught in schools. After reading the literature and some provided by the NFWI it gave me an idea. Here at Smisby we have a very active craft group and the committee thought it would be a wonderful opportunity do some very basic crafts with members grandchildren.
After getting the go ahead from the committee, four members were roped in to help, Hazel who runs a craft for mental health people, Ann who has been on the Leicestershire craft committee, and Pat who just loves cooking. We got together and for the first morning butterfly cakes were made, cards with trains, cats or dogs or aCinderella coach, and in the "mucky corner" they had to glue pieces of material to a flower pot and then planta sempervivum or house leek in it.
Our second session was even more challenging, dinosaurs, cats, dogs gingerbread men, and stars cut out of pastry, whilst the cookies were being cooked the children then went on to make rocky road cakes, high light of the morning was licking the remaining chocolate out of the bowl. At the sewing table the girls and boys made a rabbit from a glove, and on Hazel's table Hedgehogs were constructed out of books and decorated, the tree of friend ship was the next project where they could let their imagination run away with them.
At the end of both sessions there was a tray of mixed fruit put out which was soon eaten, photographs were taken and all the children took home something to remember the morning. Two superb morning were had by nine children on both mornings, we insisted that the grandparents had to stay with the children to help them with the projects,
The feed back I received from the grandparents was that they enjoyed it just as much as the children, and when are we going to have some more craft mornings for grandchildren.
Charity Strawberry Tea July 2019
Saturday the 6th of July was the day chosen for our afternoon tea in aid of "Breast Cancer Care Charity".
At 6am it was a beautiful morning with not a cloud in the sky, but by 11 o'clock the rain started as forecast and didn't stop for two hours. Undeterred we were still going to use Barbara's beautiful garden so Jane and Barbara carried on and put out the bunting and bra's ready for the balloon's.
By 2.p.m. the rain had stopped and people started to arrive. Although the weather was a little over cast strawberries and cream could be served on the patio with assorted cakes.
Many local businesses had donated superb raffle prizes. The raffle together with the sales table and members' donations we raised a total of £520 for the charity.
Thanks to all members and friends for the support we had before and on the day a fantastic sum to raise for a very worthy cause. The picture is of Jean Raynor our President admiring one of Barbara's garden decorations.
Annual Monthly Competition Trophy 2019
Jean our President is seen presenting Marie with the trophy won for gaining the most points in the monthly competition. The photograph also shows some of the sleeping bags, food, and blankets that were donated by our members to the Derby Soup Run Charity. Jackie Newbery Chair of the charity was overwhelmed by the generosity of our members.
Cynthia's Retirement from the WI Committee
Forty years ago, after she came to live in the village, Cynthia Massey joined Smisby WI. Previously she had been a member of Woodville WI and taken on the roles of President and Treasurer. When she attended her first Smisby WI AGM, by the time she left that evening she was their new President.
Ever since then Cynthia has been on the committee and acted as Treasurer and also taken on the role of President several times.
1985 was the Golden Anniversary, past presidents were invited to the celebration and a visit to Stardust was arranged. The first photograph shows Cynthia as President and Secretary Marion Baily cutting the anniversary cake with former President Madge Hewitt on the left. The second photograph shows members at Stardust. (click on photo to enlarge)
Cynthia also hosted the Strawberry Tea Garden Party at her home for Smisby WI's Diamond, see the third photograph. The third photograph shows Cynthia with some of the guests around Sheila Heaps Anniversary cake.
At our AGM in May 2019, two of our newer members were voted on to the committee. Cynthia has said over the past few years she would like to retire and so this was her opportunity. We could not let this occasion pass without giving her a small reminder of our appreciation of her years of commitment as a committee member and also for the use of her house and garden for committee meetings, Christmas and garden parties. Jean our current President presented Cynthia with a ceramic planter containing golden patio roses and violas (see fourth photo above).
Thank you Cynthia for all your hard work and commitment to Smisby WI, we will miss you at our committee meetings. Time now to enjoy being a member without the responsibitlies of office!
DFWI Centenary Events 2018
Benefit to the Local Community Challenge
All WI's in Derbyshire were set a "Benefit to the Local Community Challenge". to celebrate 100 years of the Derbyshire Federation of WIs. The project could be a number of things either for the local hall, a small local charity, or in the village or area where we could see a need.
Smisby is an ancient village recorded in the Domesday Book and St James Church Smisby will be celebrating 950 years in July. There are frequent walkers passing through but no information about the village it's self, so the Smisby WI decided to do rectify the situation by providing a village and a chuch interpretation board.
This project has taken twelve months to plan, research the history of Smisby, and come up with ideas to raise money to pay for the project and finally to find local sgnwriter, Robert Lewis, to make the boards,. The East Midlands Airport Community Fund was approached and a wonderful donation of £750 started the fundraising. This was supported by quiz nights, a murder mystery night, and a lunch for our ladies and partners to reach the target of £1,300.
Many people from the WI, village and church, to numerous to mention, helped to put together the two interpretation boards; one outside the village hall and the other at the church. The boards were unveiled on Saturday 26th July 2018 by Mr Micheal Stanton Chairman of South Derbyshire District Council and his wife. Local residents were invited to the unveiling , and bacon butties and homemade cakes were on offer. Local history photographs taken by member Jean Statt were also displayed. The morning was a great success. Smisby WI hope these two boards help explain the historial associations of Smisby village and will be enjoyed by residents and the many walkers and visitors to Smisby.
The photo shows Mr and Mrs Michael Stanton with our President Jean in the centre, by the village interpretation board, beneath the village notice board.
DFWI Centenary Fabric brick 2018
We at Smisby WI are very fortunate to have within our membership two very talented ladies who between them have made this 2018 centenary brick.
Pat Barnes designed the art work. with Angela Regan using her talents on the embroidery machine.
The design depicts St James Church Smisby, the anvil and hammer represent the Craftsmen of Smisby who undoubtedly forged work for the occupants of Ashby de la Zouch Castle.
The books tell us that Smisby is named in the Doomsday Book of 1086 (spelt Smithsby or Smidesbi)
Sir Walter Scott is believed to have visited Smisby where he got the idea for Ivanhoe, and of course we must mention the Women's Institute.
The brick will be sewn on to a large wall hanging and displayed at Federation meetings and the county shows and are a unique record of W.I.s in the Federation.
There have been two previous wall hangings which were completed in the 1980's and the year 2000.
DFWI Centenary Tea Towel Competition 2018
Marie and Suzanne designed a commerative tea towel for the Derbyshire Federation showing every WI on a map and a selection of activities ( see pictutre). However, it was not selected for printing but the art work will be on display with the other successful and unsuccessful entries at the Autumn Council meeting.
November 2017 WI Life Magazine
Laura was interviewed and photographs taken of her with the Alpaca, and the article appeared in the November WI LIfe.
25th Jan 2018 First Aid and De fibrillator training by East Midlands Ambulance Service.


We have had a Defibrillator outside the village hall for some time now and the committee agreed that we need to know how to use it.
We approached the East Midlands Ambulance Service and Ben Ryrie. the trainer for EMAS kindly agreed to come along and show us how to operate it. Ben gave an interesting and entertaining talk to an audience made up of the WI, village hall users and villagers.
Ben told us that we must first assess the situation before approaching the casualty, and not to put oneself in any danger.
Call 999 if the casualty is unresponsive and not breathing
If the casualty is unresponsive to voice and collar bone taps and does not seem to be breathing, then phone for an ambulance immediately, by calling 999.
If the person is not responsive and not breathing, then their heart has stopped working and they are having a cardiac arrest. ( You can check if the casualty is breathing by placing your face close to the nose to detect air movement and watching for any chest movement)
If necessary clear the airway, using the rescue position to drain the mouth. Tilting the head back puts the tongue into place.
If the casualty is not breathing start CPR Ben demonstrated CPR on Annie the demo body.
CPR can be done with just chest compressions or with chest compressions and rescue breaths.
CPR using chest compressions
Place the heel of your hand on the breastbone at the centre of the person's chest. Place your other hand on top of your first hand and interlock your fingers. Position yourself with your shoulders above your hands.
Using your body weight (not just your arms) press straight down by 5-6cm (2-2.5 inches) on their chest.
Keeping your hands on their chest, release the compression and allow the chest to return to its original position.
Repeat these compressions at a rate of about 100 times per minute until an ambulance arrives or you become exhausted.
Using the defibrillator
Do not stop the CPR. Someone else must fetch the defibrillator
Remove the defibrillator out of the box, and the defibrillator will talk you through the operating instructions. This involved placing two sticky patches, as directed and the instructions were very clear and easy to understand. The machine checks the casualty's heart and decides whether to administer a shock or not. Everyone must stand clear if it tells them to.
Everyone learnt a great deal in that hour and a half and hopefully can help someone in an emergency if required.
Visit by National WI Chair, Lynne Stubbings
Lynne Stubbings, the new chair of the WI, was invited to Smisby WI in October 2017.Lynne Stubbings does not live too far away from Smisby and so was able to accepy our invitation to speak.
As Smisby is on the border of Leicestershire and Derbyshire we invited clubs from both areas. We had representatives from Blackfordby, Netherseal, Newhall, Ticknall, Melbourne, Ashby Castle, Swannington, Ravenstone as well as Smisby, and Chrissie Booth and Christine Gardener from the DFWI.
Lynne's talk was titled "Opportunities for All". Lynne began by showing a short video of the centenary celebrations at the Albert Hall with Jerusalem being played in the background, Lynne told us how she became involved with the WI and the opportunities that we as members could take part in.
After Lynne's talk members had an opportunity to ask questions on various topics, and because of Lynne's thirty-seven years in the WI, all questions were answered to members' satisfaction.
Barbara, our vice chair, presented Lynne with a DVD of Smisby's activities over the past year, and a bowl of Kalanchoe plants as a reminder of the event and thanked Lynne and everyone else for attending.Please click on the photograph of Lynne and Barbara to enlarge it.
Open meeting Sept 2017
Once a year Smsiby WI have an open meeting where husbands, partners and friends are invited to join one of our monthly meetings. For September 2017, our speaker talked about the wonderful work, done by the volunteers of the Derbyshire Mountain Rescue service. This was a topic whichwe knew this would appeal to the audience and, Kevin the training officer for the charity did not disappoint. He gave a superb talk on the many rescues they have undertaken within Derbyshire, Staffordshire and Nottinghamshire, he also gave a very good insight into the intensive training the volunteers have to take in order to be part of the team.
Christine Gardner ,the publicity officer for Derbyshire WI , joined us this evening as Smisby is to be featured in the December issue of Derbyshire Life Magazine. Some of the photographs taken are shown below ( click on each to enlarge. A great night was had by the members and visitors who also enjoyed a buffet supplied by the Committee.
Uttoxeter Ladies Day July 2017
As you can see from the photographs it was wet and windy but in true WI spirit we carried on with a fabulous 'bring and share' "posh picnic", and some had the classy option of the restaurant.We had a great day with many of us going home with winning, for some of us it was another tick of the bucket list.
Please click to enlarge the photos
Smisby is part of the Derbshire Federation of WIs and the Derbyshire Federation centenary is in 2018.

Planning for the Derbyshire Federation of WIs Centenary in 2018
To celebrate the centenary of the WI in Derbyshire many events have been organised by the Trustees, and we have been set many challenges.
* On the 12th May 2018 at the Winding Wheel Chesterfield there will be a day of activities and fun, which will include a fashion show, musical acts, quizzes, treasure hunt and significant characters from the WIs past and a whole lot more to show case the WI.
* In the Autumn there is to be a variety show where members can come along and sing, perform a short play, or play a musical instrument. Dates and more details are to follow.
* Could we design a new Badge Federation? That's one for our talented artist's, any volunteers?.
* Benefit the local Community?
What can we do to give some benefit to Smisby Village? That took some thought, but we came up with providing two interpretation boards for the village, one to be attached to the notice board outside the village hall, the other at the St. James Church.
Our fund raising has been helped by a very generous contribution from the East Midlands Airport Community Fund, a bacon buttie morning, quiz night and a lunch for the walkers, will all go to help pay for the project.
The interpretation board at St James Church will give information on the history of this beautiful Norman Church, the notice board will be repaired and painted. At the village hall the board will give the history of the village and it's connection to the Harpur Crewe's of Calke, it will also be painted and made good.
We have many visitors and walkers pass through the village and we intend the boards to give them a brief history of the village.
When both boards are in place next year we will have a short dedication service by Cannon David Edwards and photographs taken to be included in the local paper.
To commemorate the Centenary in 2018 every WI in Derbyshire had the opportunity to design and make a "fabric brick" depicting their WI and could also enter a competition to produce a commerative tea towel. Smisby entered both commerative events.


DFWI Autumn Council Meeting 2017: A report from Our Chairman
Sheila and I attended the meeting at the Riverside Centre situated on Pride Park.
As usual Jerusalem was sung with great vigour some making the high notes better than others (Sheila was much better than me) and then visitors welcomed by Chrissie Booth.
Business agendas went through smoothly along with the secretaries report, the treasurers report noting the change of legal status to C.I.O. - Charitable Incorporated Organisation which will benefit all and be completed soon.
Pooling of fares was discussed which would make monetary sense especially for those with only a few members. The Easy Fundraising scheme was encouraged which must be signed into by 31st December 2017.
The entertainments secretary gave an account of all the activities we can look forward to next year, the Derbyshire Federation Centenary. Too numerous to mention but will be included in correspondence sent out.
Diane Smiles stood and spoke about the Elms Foundation (message from Suzanne yesterday) and a member stood and spoke about the untimely death of her young son who passed away suddenly from a hidden heart condition.
She is looking to make tests on all young people compulsary and has set up a charity to help fund awareness and testing.
The morning speaker was the new National Federation chair, Lynne Stubbings, who amazed us and made us laugh with her talk of very humble beginnings with the Womens Institute which in quite a short time led her to be involved with many different and important "hats" within the Institute. How she found time to raise a family and keep a home running we'll never know, but she did. A very patient husband?
The afternoon began with the prize winners of the Anne Hale competition, monthly draw, raffle etc.
The afternoon main speaker, Liz Carr who plays Clarissa Mullery in Silent Witness, then gave us an account of her life. An actress, comedienne and all round activist she did not start life in a wheelchair but started to become ill in the early years. A calling to the stage was something Liz realised from primary school days. She also realised she had the ability to make people laugh and to hear applause made her feel good. She enjoyed it and this spurred her on along with the loving support of her parents. She spoke of her difficulties of being unable to access places, not being accepted because people just saw the disability but eventually, attending Nottingham University to study law opened up her world. She worked in Derby and became very prominent in establishing an organisation which provides carers for those who suffer a whole range of difficulties. She went on rallies, London included to create attention and occasionally caused havoc. Along with colleagues a stage group was born which proved to be very successful. She auditioned for work within television and on stage and eventually auditioned for a television series not actually knowing what it was. Her partner made her study the programme. The audition went well and so Chrissie on Silent Witness was born. The talk was occasionally sad, sometimes gut wrenching but she certainly knew how to make us laugh. A standing ovation was her reward.
Derbyshire County Show WI Art and Photographic competitons 2017
Smisby entered the WI Art and Photogrphic competions and obtained third places in both competitions. The theme this year was wonderland and the photo shows Marie's and Chris's paintings.
Pie making visit Sept 2016
On the 13th of September 2016 nine members and one husband had a very enjoyable evening at Brockleby's Pork Pie
manufacturers. After being greeted by David we had to put on aprons and of course the very fetching hair nets in order to have a tour of the factory. David gave a very informative talk about the company and the range of pies that they make all being free range and sourced locally.
Now to the best bit, making the pie! David first of all showed us how to make the base with prepared pastry, wrapped around a wooded block after putting the meat in, the lid was put on but only with five indentations to attach the lid to the base.
A fantastic time was had by all, all ten pies looked totally different, but Sybil's pie was chosen as the one that looked most like a Brockleby's Pork Pie.
Please click to enlarge the photos
Repton Walk. Thursday 17th August 2016.
For many years Smisby WI have had a June evening walk with husbands or friends around the local area. As we have a very thriving walking group that meets every second Thursday of the month we are finding it difficult to find walks that all members can participate in. We have been to the lime yards at Calke and of course not to be forgotten the horrendous weather we had on our canal walk at Shardlow last year.
The walk took place in August this year due to the availability of our Blue Badge Guide Mr Keith Blood. 33 members and husbands met at the Repton Tea Rooms for the start of the guided walk. Keith went first to the ancient Market Cross in the centre of Repton, before moving on to St Wystan's Church.
The church had been opened especially for the tour and we were also very privileged to be allowed to go down into the crypt. The crypt was constructed in the first half of the 8 th century. Perhaps as a baptistry, later converted to a mausoleum. It is a small chamber built of stone which became the final resting place of several Mercian Kings. St Wystan's church takes its name from the grandson of King Wiglaf who was murdered in 840 AD. Following Wystan's death his shrine became a place of pilgrimage.
From the church, there was a brief look round the school cloisters and then a short walk back to the tea rooms for our evening meal. Barbara gave the vote of thanks to the proprietor of the tea rooms for opening especially for us and providing us with an excellent meal, and to Sonia and Rebecca for organising the very enjoyable evening.
Beaumanor Hall Visit on Thursday 28th July 2016
Eighteen members and six husbands enjoyed a morning visiting Beaumanor Hall a stately home and park in the small village of Woodhouse on the edge of Charnwood forest.
We were greeted by Margaret who was our guide for the morning, Margaret told us that the hall has been in the Herrick family since 1595 when Sir William Herrick was a government official under Elizabeth 1 and later a member of parliament for Leicester. There have been three halls on the site but the present hall was built over a seven-year period by William Railton (who designed Nelson column and Grace Dieu) between 1842 and 1848 in the Jacobean style. The floors were constructed using stone from Derbyshire and the floors of marble from Ashover.
Just before the Second World War in 1939 the Herrick family owned the park the hall and 6,500 acres of land, Beacon hill the Hanging Rocks and many more workers houses and cottages. In 1939 the War office requisitioned the estate when it became a listening station where encrypted enemy signals were intercepted and sent to Bletchley Park by motorbike for decoding. Beaumanor for the duration of the war was the home of the War Office Y group.
Please click to enlarge the photos
After a very comprehensive tour of the hall, kitchens, and cellars we made our way via the Victorian School Room to Morse Cottage which is where some of the morse code was intercepted, and passed to Bletchley, the huts on the estate that had to be camouflaged from enemy planes as a row of cottages, greenhouses, a cricket pavilion and stables.
The Hall and some of the park is now a Conference and Education Centre run by Leicestershire CC. Coffee and biscuits were a welcome break half way through the tour, but we also enjoyed a very nice lunch at the Curzon's Arms in Woodhouse Eves, where the service was very slow but the company and food was excellent. Everyone said how they had enjoyed the visit and we will be going back to learn more about the Hall's help towards winning the second world war, and of course we will have to have afternoon tea at the hall.
Houses of Parliament and the London Eye Visit on Friday 20th May 2016
Forty-one WI members and friends boarded the bus at Smisby for the journey to London. As we wanted to miss the traffic hold ups on the M1 we started out at 10a.m and it proved to be the right decision as there were no hold ups to our first stop for lunch at a garden centre near St Albans.
After a very enjoyable lunch at the garden centre it was back on the bus for our journey to the London Eye.
As anticipated the going was slow due to prayers finishing at the London Mosque in Regents Park and of course the lunch time London Traffic, but we arrived in plenty of time for our 3.30.p.m slot on the London Eye. This wonderful piece of engineering is quite magnificent and many in our party had not been before so it was quite awe-inspiring for them as we travelled at a very slow speed to view the London skyline.
Twenty minutes later we walked to The houses of Parliament with time for a quick coffee and cake, then into the magnificent Westminster Hall to meet our tour guide. We were told that the Hall is the oldest building on the Parliamentary estate, having been built in 1097 by the son of William the Conqueror, and completed within two years, and to this day survives almost in its original form.
The hall has seen many historic events, from the trial of King Charles 1st the coronation of James 11 and the lying in state of many notable people.
From there we were taken to the House of Lords the second chamber of the UK Parliament which works with the house of Commons, questioning Government and debating issues and policy. Three days before our visit the Queen had opened Parliament and when you see the house of Lords on TV it looks quite large, but we were all surprised at how small it was when we were standing there. (We could not sit down in either the Lords or Commons)
The tour guide was very informative about all the various rooms including the House of Commons, and gave us a good in site into the daily working of this magnificent building.
After a very good journey home we arrived back in Smisby at 10. 15p.m having had a wonderful day enjoyed by all.
Photograph supplied by Pat Barnes.
Smisby WI gratefully thanks the Parochial Charity for the grant which made this visit possible
Smisby Successes 2016
Smisby won the competition at the Harpur Crewe spring group meeting on 13th April. The theme was "a beach hut in any medium". Angela Regan made the Smisby entry, which was a cushion embellished by machine embroidery and received the cup, as shown in the photos taken by Pat Barnes. Click to enlarge the photos.
Although the Deryshire County Show was cancelled in 2016 because of the waterlogged field at Elvaston castle, the Derbyshire Federation still ran the WI competitions from their headquarters in Derby. The theme was Midsummers Night dream and Marie won the art competition with her painting, see picture
Shardlow Walk and Supper 2016 (provided by Shardlow WI)
For a number of years Smisby WI has had an Open June evening walk in the local area with refreshments afterwards.
As we have a very thriving walking group that meets every second Thursday of the month we are finding it difficult to find walks that all members are able to participate in. We have been to Calke Abbey and had a talk about the Lime Kilns, and a tour of Smisby Church with supper at the village hall.
This year ( 2016), an open walk was organised to visit Shardlow an inland port just a few miles from Smisby. The visit was arranged with Shardlow WI, to tell us about the history of the village and canals, finishing with a light supper.
All thirty-three of us duly arrived at Shardlow village hall looking very warily at the weather as it had been a dreadful week weather wise, see photos and click to enlarge.
We set of in small groups with our guides and gathered round as they started to tell us about the history of Shardlow and how it was to become a unique place in the history of the country. The 18th century canal port, with all its associated wharves and warehouses, developed greatly with the opening of the Trent and Mersey Canal in 1770 for the transfer of goods from wide boats on the River Trent to narrow boats on the canal, where goods could be shipped to other parts of the country. We walked past warehouses, houses and the old Methodist Church (no longer in use) to the new bridge over the canal and then the heavens opened. The various groups dashed to shelter under trees and the bridge and there we stayed, as the rain thunder and lightning raged all about us, and the roads and pavements flooded.
Our guides were very good and tried to keep our interest but the weather was just getting worse and after thirty minutes it was decided to make a dash for the village hall.
Once at the hall we were greeted by the lovely Shardlow WI ladies who had prepared a supper of sandwiches and homemade cakes, and of course a very welcome cup of tea or coffee.
After we had dried out we thanked the ladies for their wonderful hospitality and the evening finished with a short quiz on the Tudors and even though we got completely soaked it was a night we will always remember.
Thornton Chocolates visit
In May a small group of members visited Thornton's chocolates, see photo. Click to enlarge.
Latest Visit: Button maker and Jewellery Museum
The WI travelled to Smethwick to visit the last remaining mother of pearl button factory in April and enjoyed an entertaining talk by the owner and the opportunutiy to buy some of his beautiful jewellery made from shells. The museum in the Jewellery Quarter in Birmingham was visited too. Click to enlarge the photos.
Archery
The Derbyshire Federation and the Harpur Crewe Group occasionally organised sporting evetns for members. Several of the Smsiby members took part in the Archery taster duing 2015.
---
Visit to Charlecote Park
On 12th September 2013, Smisby WI visited Charlecote Park, a beautiful Tudor house.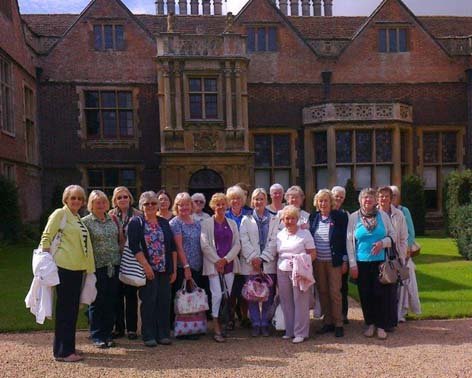 The visit was supported the Parochial Charity.
Our coach journey took us through some out of the way places and pretty hamlets. The weather held and members enjoyed the house, gardens, interesting outbuildings and Victorian cookery demonstration.
A delicious tea was provided by a local WI before we set out for home.
Visit to Hough Mill
On 22 August 13 members, with family and friends met at the George Inn.
A 2 mile walk included some of the historic mining sites in the Swannington heritage old mining area. We then met our guide Bill Pemberton at Hough Mill.
Bill gave us a fascinating guided tour of this Swannington heritage trust site, explaining how mining has changed through the ages. This tour included the rare heathland in the Gorse field, once heavily mined in medieval times; the remains of the Califat colliery and the partly restored windmill, Hough mill. We were able to go inside the windmill and learn how it used to operate.
A short walk back to the George Inn was followed by a delicious lunch.